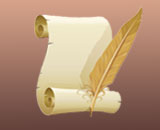 Mo
Tu
We
Th
Fr
Sa
Su
1
2
3
4
5
6
7
8
9
10
11
12
13
14
15
16
17
18
19
20
21
22
23
24
25
26
27
28
29
30
31
4 January 2010 Year

Publishing
"Religious institutions in Adjara" document's collection, part I (Batumi 2010). In collection reader looks through in archives administration protective religious life's documents. Descriptions of operating Christian churches in Batumi. In it's properties schedules. Separate place has in churches properties matters of landownership.

3 January 2010 Year

Publishing
"Adjara in foreign author's works" (Batumi 2010) In collection is archives administration carry out scientific conference materials.

2 January 2009 Year

Lecture
Shota Rustaveli State University's with students and pupils on theme: 1. Georgia's occupation by red army (18.03.09); 2. Georgia's independency in archives documents (22.05.09).

1 January 2009 Year

Meetings
1. Arrange a meeting with notable women in Adjara public. 2. arrange presentation of professor O. Gogolishvili's book "Social and National Movement in South-West Georgia in 1900-1921" (03.07.2009)